Everything you need to know about the payment methods we offer, our payment process, and managing your account.
Do you accept PayPal, or bank transfer?
We only offer credit, or debit card payment via our site, as well as PayPal. Unfortunately we can't take orders over the phone either, as all of our data security is secured to work via our website.

We use Stripe (www.stripe.com) as our credit card payment processor and they allow us to have the industry's highest level of data security (https://stripe.com/docs/security/stripe) which is actually the same standard as PayPal's – i.e. PCI DSS Level 1, the payment industry standard for data security.
Our system is set by default to allow transactions, but before any payment is completed successfully it has to be "approved" by the customers bank.

When a payment fails, we're also not usually given any details around why, because in almost all cases of a transaction not processing, it's the cardholders bank declining the transaction rather than us.

If you contact your bank, they should be able to provide a reason why this transaction isn't being allowed.
Why do you have a $1 Monthly Club Subscription sign-up fee?
The monthly club is cheaper than ordering single tins on an ad hoc basis and you can cancel at any time, however, we have noticed a few people who sign-up for the monthly club and then cancel it immediately to get the lower price, which is not in the spirit of the Monthly Club. We want this subscription to be for those who know and love No Pong already. ?

Your first Monthly Club will be the same as a single tin and the savings come after that!
How do I cancel my subscription?
It's no problem to cancel your subscription at any time, and it is our policy that all customers manage their account via their account page. This is to protect customers and their privacy.

This is mentioned in our Terms and Conditions, and Privacy Policy that everyone agrees to when they checkout.

The only time we would intervene is if there was a technical difficulty with the site, in which case we'd be delighted to help, however, if you are reading this, our site is working!

You may access your account at https://www.nopongdeodorant.com/my-account/

If you cannot remember your password, there is a reset password option as well.
Why did my subscription payment fail?
As our system is actually set to accept all orders, it means that any payment fail is typically due to a customer's bank declining it.

This can sometimes happen even if there are funds on the card, but we're not usually provided with any reason for this to have failed, as it's not something that we have any control or visibility over.

When an order fails, it goes into a "pending" status in our system. You can still view it, and re-process payment if you log into your account at no-pong-america.go-vip.net/us/my-account and click through on your order in there.
I need to change my address!
You can manage your address changes in "My Account" toggle of our website.

Please ensure you change both your billing and shipping addresses as needed.

Also, if you have an ongoing subscription, please ensure you check the box that states "Update the billing used for all of my active subscriptions" e.g. below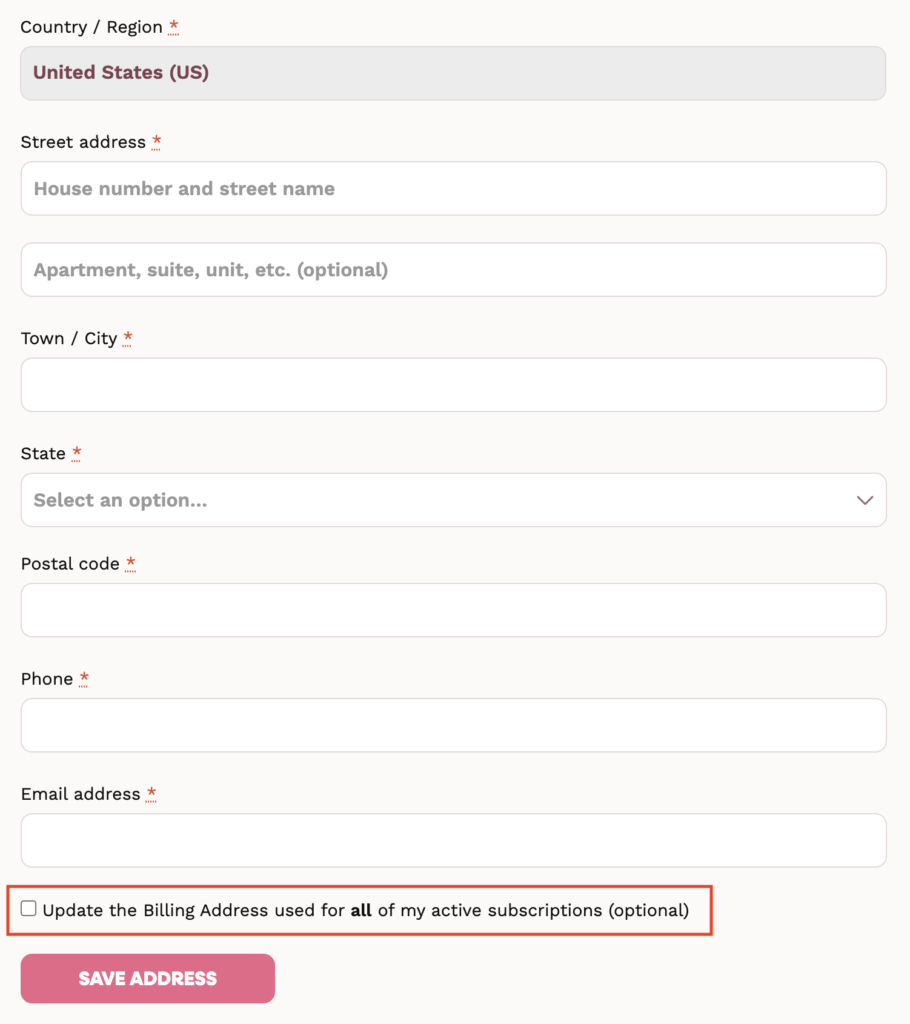 What is the $1 / $0 charge on my account?
We use a highly secure payment processor called Stripe (www.stripe.com). The $1 that may appear on your statement is an "authorization" by Stripe. They do this to check the validity of a credit card (i.e. a fraud protection measure).

Depending on your card, Stripe may first try a $0 authorization, but if that fails for whatever reason, they then try to authorise $1. More details around this are on the first point here – www.no-pong-america.go-vip.net/us/terms-and-conditions/

Something to note – it's an "authorization" not a "charge", and it will automatically drop off your statement at your banks discretion, usually a few days to a week.

Our system is actually set to allow all transactions, so when a payment fails for whatever reason it's typically the cardholders bank that is declining it, rather than us.

Given this, we're not usually given any reason why, so the only thing we could suggest is to speak to your bank to find out why this transaction was declined.
Still can't find what you're looking for?
If you still can't find the answer you're looking for, drop us a note via our contact page here. Remember to be nice – we're people too!